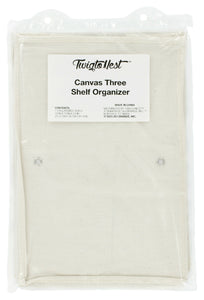 You will receive (1) 3-Shelf Sweater Organizer Canvas

MAXIMIZE CLOSET SPACE: Take advantage of all the space in your closet with this closet organizer.  Three shelves offer ample space for clothing, shoes, linens, blankets, purses and more.

EXTRA DEEP SHELVES: The deeper shelves are perfect for storing bulkier items like sweaters and jackets.

HANGING DESIGN: Small, cramped closets shouldn't stop you from staying organized. Simple, hanging design that requires no modifications to your closet allows you to capitalize on the vertical storage space that may otherwise go unused.

DURABLE MATERIAL: Tough, canvas material will withstand years of use in your closet.
TwigtoNest 3-Shelf Sweater Organizer Canvas - Our sturdy canvas collection is the right choice for any closet; Canvas material is forgiving on all materials, from leather to fur to nylon to cotton or polyester. Canvas breathes freely, so as to reduce stale smells that forever linger in a closet. And the color of natural canvas will complement any closet or bedroom with neutral earth-tone colors. This organizer hangs from the clothing rod, fastened securely by dependable Velcro. Ideal for sweaters, jeans, shirts, hats, handbags, etc. Features 3 large compartments; Each shelf has reinforced fiberboard liner to retain shape over long periods of use.